Print This Page
Home > Floor Coverings > Carpet
Choosing Carpet
So many choices... - are neutral colors always the best option?
Of course floor coverings are available in just about every color and pattern you can imagine but so many of us opt for neutral colors - we can't all be wrong can we?
Well, no - probably not. A light color can show signs of wear and tear in a high traffic area of the property - in the entrance hallway for example - it is bound to look dirty fairly quickly.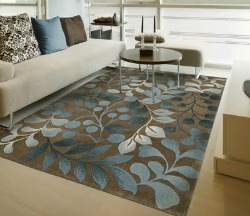 But that said, my daughter has black flooring in her room - her choice, not mine! - and every single speck of dust shows and you could drive yourself mad vacuuming daily if you were very houseproud.
A patterned carpet leaves you too limited in what else you can add to the room and I would hate to be forced into having very plain curtains, sofa, cushions etc. just to avoid a pattern clash.
In my opinion, neutral color combinations are the way to go - whether you choose a neutral toned carpet or a pale laminate - and I would make use of rugs or runners in areas of heavy foot-fall or where you want to add to the warm, homely feel of the property.
Something else to consider is that when it comes to the best way to clean carpet - with some of the chemical options available, the color may also be stripped whilst trying to remove the stain. You would often be better off just learning to live with the stain but with a lighter color, this wouldn't be such a concern.
Tile vs. Carpet
When we had a vacation pool home in Florida, the number of decisions we had to make seemed endless.
Everything from the color of the front door to the shape of the handles on the kitchen cupboard doors had to be discussed and agreed upon.
Who'd have thought that choosing carpet vs. tile would be such a big debate?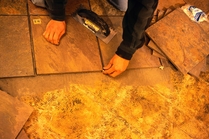 The one thing we had already decided was that we would have tile on the floor of the main living space as it led straight to the lanai and the pool area.
We mentioned our decision to another vacation home owner and she immediately advised us to think again.
We had only considered the alternatives in terms of the wear and tear and thought the more cost effective option would be ceramic tiling that would not be damaged by pool water should someone come into the house straight from the pool.
What we hadn't thought of was that coming onto a slippery floor with wet feet was an accident waiting to happen and she told us of the law suits we could expect should someone slip over and sustain an injury. Naturally we changed our minds pretty quickly!

I don't think there is a right and a wrong answer when it comes to floor coverings as there is good and bad with all options but you will need to consider the public liability aspect of a vacation home and let this become a factor in your decision making.
We opted for choosing carpet but with a large additional mat just inside the door to the pool area. We couldn't be there all the time to make people wipe their feet but we hoped that most people would. We were proved right on this and after several years, our floors were showing little in the way of water damage.

If you do opt for carpet, don't forget to budget for the occasional cost of cleaning. No matter how well people look after your property, there will be damage and the odd spillage. Regular attention from a professional floor cleaning service will stop the dirt becoming too ingrained and will keep your property looking fresher for longer. A grubby or stained floor covering will completely spoil the look of your property so it is important to keep your floors looking as fresh as possible, for as long as possible.
What's Your Top Flooring Tip?
Do you have a good flooring tip, idea or story? Share it!

Tell us all about your flooring ideas - we'd love to share your comments with other visitors.