The Little Rental House On The Hill
by Tammy Summers
(Columbia Cross Roads, PA. )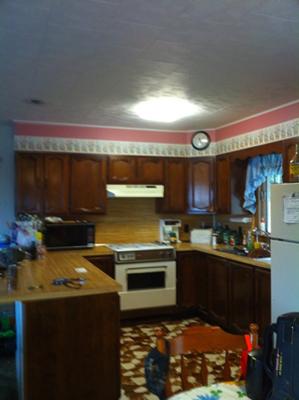 Kitchen open to living room and breakfast area
My name is Tammy, I'm originally from Texas, my husband works in the Oil & Gas Industry.


A few months ago he was offered a job that would take us all the way to Pennsylvania, sounds exciting right? That's what I thought too, now that we're here I am in utter shock, I have been a Texan all my life, only traveled out of the state once!
What I'm trying to say is there is zero shopping here, and when I say zero, I'm not kidding, the closest Walmart is about 30 minutes away and I am not the biggest Walmart fan, but that's it.
We rented a really cute house that has tons of potential
, the owner said to feel free to make it my home, and so my quest begins. I want to transform this outdated full of potential little house on the hill. I need projects, trust me I'm going stir crazy, so I ask for help.
I have some ideas, but I don't have any friends here and theres not really anybody I can bounce ideas off of, except of course the drillin' man (my husband), he can't really be trusted because he just wants me to be happy and he knows how blissfully happy I am when I'm neck deep in a project.
I've come to the realization that my new best friend is the internet, it's where the pretty things are, it's where the people are and I'm pretty sure it's where my sanity will be. So, here I am my new sweet friend, I need some girlfriend advice on where to start.
I am pretty set on my color scheme
, chocolate, crimson, sort of a sage antiqued distressed green, I'm sure that's not an official color but since we're girlfiends I assume you know what I mean, a lighter tan, possibly a tuscan yellow mixed in, white trim. I'm uploading a picture of the kitchen, living room, and basement rustic bar, which is very important to the drilling man, note the refrigerator has to stay because it's a kegerator, look closely on the side and you'll see it, the beer tap. I'm sure this is the reason the drilling man had to have this house.
But back to the combined living and kitchen, I'm thinking about painting the cabinets green and distressing to show the rich brown underneath, other than that I don't have any inspiration. I like the shabby chic overstuffed look, I like the tuscan look, I like using painted pieces, distressed pieces, it has to exude comfort, I want people to walk in and not want to leave, I need to feel it!
The bar is very rustic, so we need to work with what we have, we would like for it to be rustic chic, or maybe rustic pub chic, not rustic cheap dirty bar. My only thoughts are cozy, maybe red and brown tones. I'm out of room so please girlfiends help me!
Andrea's Response
Well hello there Tammy - nice
to 'meet' you :o)
I think you are so lucky - a whole house to put your own stamp on and a husband who won't interfere!
OK, starting with the kitchen
... I like the idea of distressing the cabinets with a green over the brown. I have distressed cabinets myself and where I went wrong is in not applying enough wax to the underneath color which made rubbing off some of the top color more difficult. As long as you go over all the stick-out edges with wax (I used a cheap candle) you'll be fine. Don't forget you will need the green to be in a specialist kitchen paint so it can be easily wiped clean.
It looks like you have a yellowy-brown countertop and walls so this may be a good room to
indulge your love of the Tuscan look
. With the olive green on the cabinets, you could accessorize with antique brass cabinet pulls, light fitting, curtain pole etc. and perhaps add in sunflowers as an accent in your curtains, oven mitt, drying up cloths - all fabric items basically. You could carry this through to the table with a sunflower print cloth and olive green dinnerware or, if that looks too theme-y for you, just stick with the olive green and sunflower yellow colouring but without the print.
Do you have anything in the living room that you can't change? A sofa or carpet maybe? If you do, you may need to let that guide you in a color direction but if not then I think your scheme of chocolate and crimson will look good with a rich cream if it is all getting a bit dark. I have just added a cream colored faux fur rug in my living room and it is surprising how much warmer the room seemed immediately.
As far as I'm concerned, you can't have too many pillows on the sofa and I also like to use sofa throws to both cover a past-its-best sofa and to make the room feel cosier.
Using a variety of fabrics for your pillows really adds to the shabby chic look. Are you familiar with a designer called Cath Kidston? I am a very big fan of hers and you could use pretty much any combination of her fabrics for curtains or pillow covers and they would look fabulous together in a casual, shabby chic way.
As you say,
in the bar area the tone has already been set
with the very woody bar and stools so my advice would be to stick with that but girly-it-up a bit with a lot of fabric - pillows, heavy curtains and so on - so that it doesn't become too much of a boys room.
I hope that has helped a little Tammy but please write in again if you have any questions.
A lot of people subscribe to this blog (so will know straight away that this page has been added) and hopefully some of them will send in their suggestions for you too.