House Exterior Colours
by Tara
(Canada)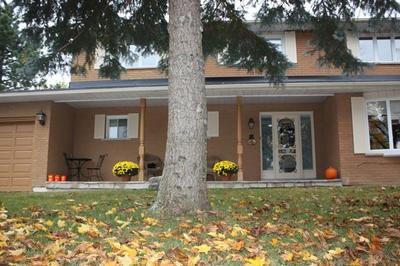 Exterior
Hi There,


We are looking to paint our outdoor window shutters, garage door and porch columns.
Recently, we had a new wood front door installed - walnut colour. The roof shingles are black and the gutters are cream coloured. The brick are a beige tone.
Can you suggest what colour we should paint the garage door, window shutters and porch columns?
Thanks a bunch!
Andrea's Response
I'm a big fan of
Behr Paints
and the tools they offer on their website to help you group colours together.
I tried to use the colours you mentioned to see what it may suggest as an option for an accent colour and hopefully you will like the shade of green - Aspen Aura - pictured above.
If you go to their site yourself you will be able to fine tune the other colours to better match your existing colour scheme but I really think that this green - or something like it - is very easy on the eye and will go well with your style of home.