Decorating Pillars For First Large Party
by Kenney
(Fortwayne IN ,USA)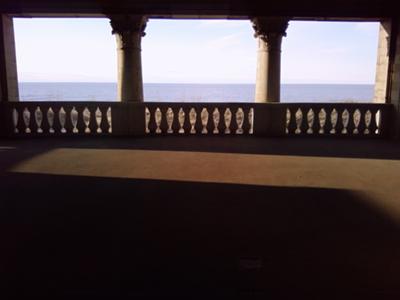 Beach and Water View
I'm about to throw my first party for about 100 guest.


My venue is a beach house over-looking Lake Michigan.
The building has these pillars and I would like to drape them with some sheer or cheap fabric but it seems fabric is expensive.
How can I achieve this look for cheap or is it even possible?
Andrea's Response
I have to say my first reaction to your question was - don't!
You have classic pillars and a beautiful balustrade with a gorgeous beach and water view - you really don't want to do anything that will detract from any of that.
If you really feel you need to add something to the pillars how about lighting? This could be both functional and very pretty.
You know the sort of lights you put on a Christmas tree? We call them fairy lights in the UK, not sure if you have a different name in the US.
Making sure you have lights that are suitable for outdoor use, you can wind these round the pillars which would look lovely.
You could go for a classic small, white light look or something more colourful like a coloured bulb or a flower surrounding the bulb or even something fun like a bulb surrounded by feathers.
If you do decide to go for fabric, make sure you ask your supplier if they will give you a better price if you ar ordering a large quantity - it doesn't hurt to ask and you just never know.
Hope the party goes well and you have lots of fun.